Yesterday we reported on the attempted coup at Project Veritas where the board of directors unexpectedly placed James O'Keefe on paid leave. Today a major law firm, Troutman Pepper sent a threatening letter to this corrupt board, demanding they cease and desists or face legal consequences. The letter starts as follows:
"RE: Demand from Donors to Cease Actions Threatening Project Veritas' Mission

Dear Project Veritas Board Members:

Our firm represents a large group of significant donors to Project Veritas who have grave concerns about the Board of Director's reported action to remove Founder and CEO James O'Keefe from his leadership position, change the structure of the Project Veritas entities and their Boards (raising risks for the entities' charitable status), and operate Project Veritas for purposes other than those for which the organization was established.

"By taking or threatening to take these actions, the Board is straying from its roots and the express purpose for which it raised considerable funds from the public, including our clients."

"We are deeply concerned that the Board's actions to restrict or remove Mr. O'Keefe from his position, take control of the Project veritas entities, and operate them in a manner inconsistent with the purpose for which the entities were established would violate Virginia law."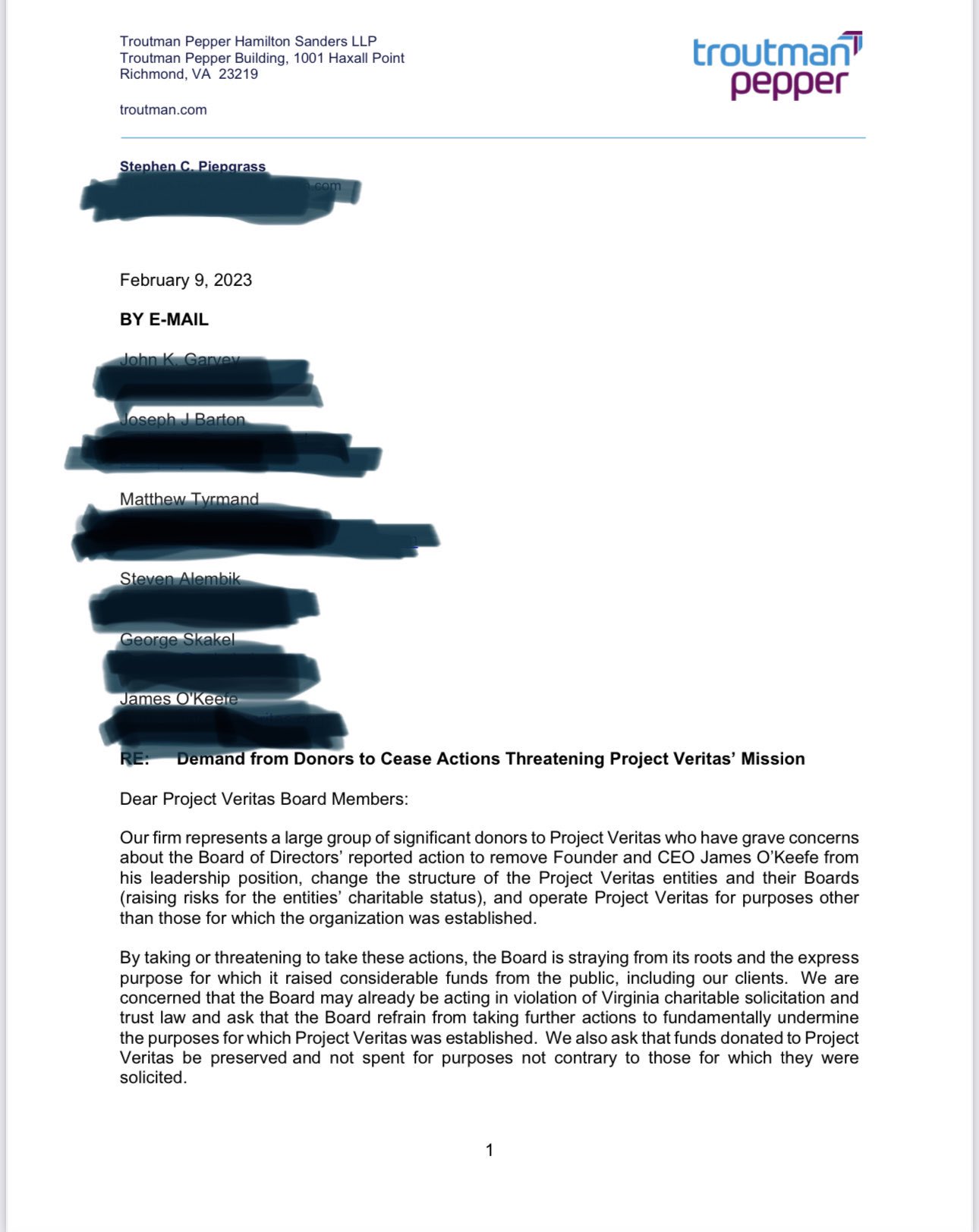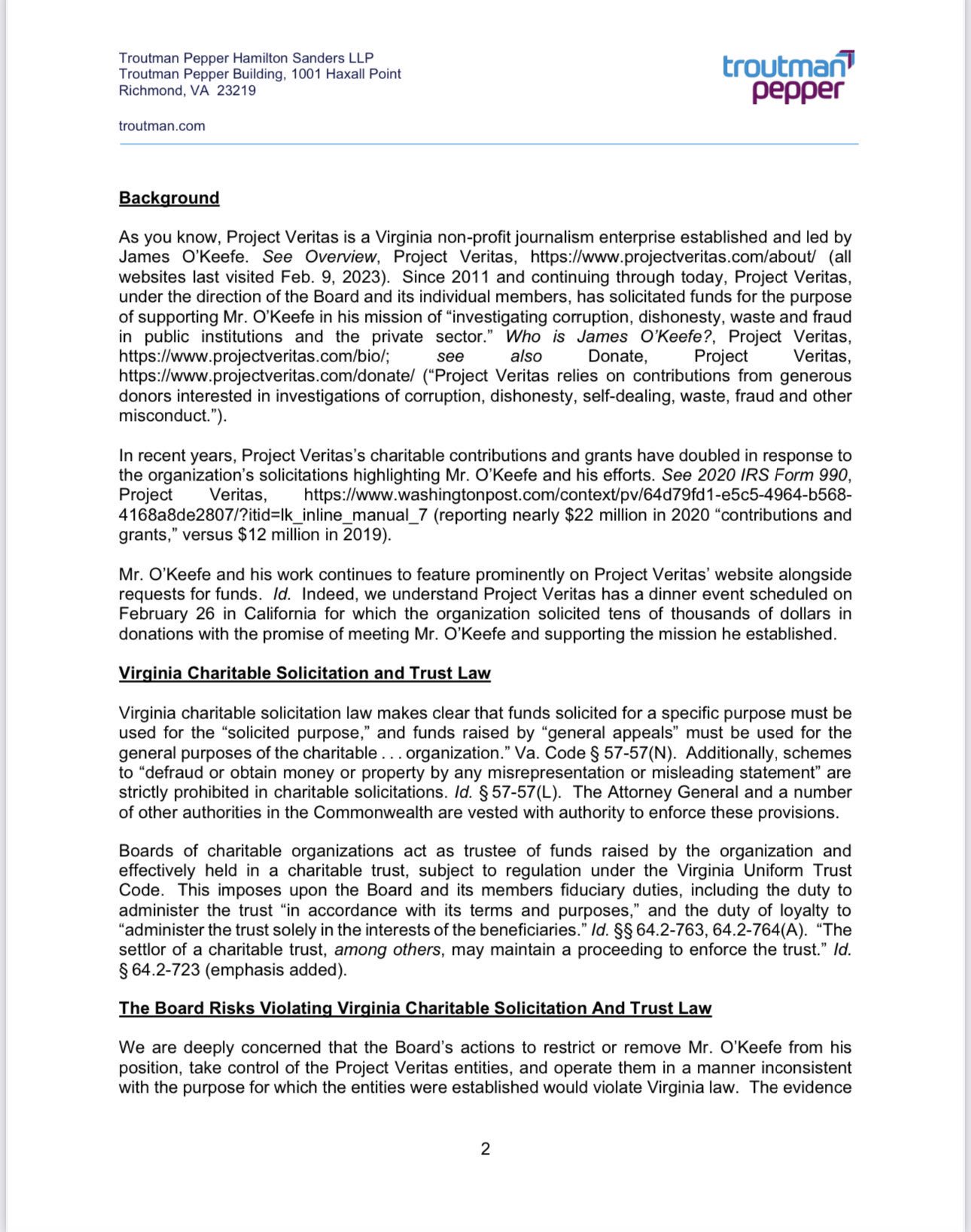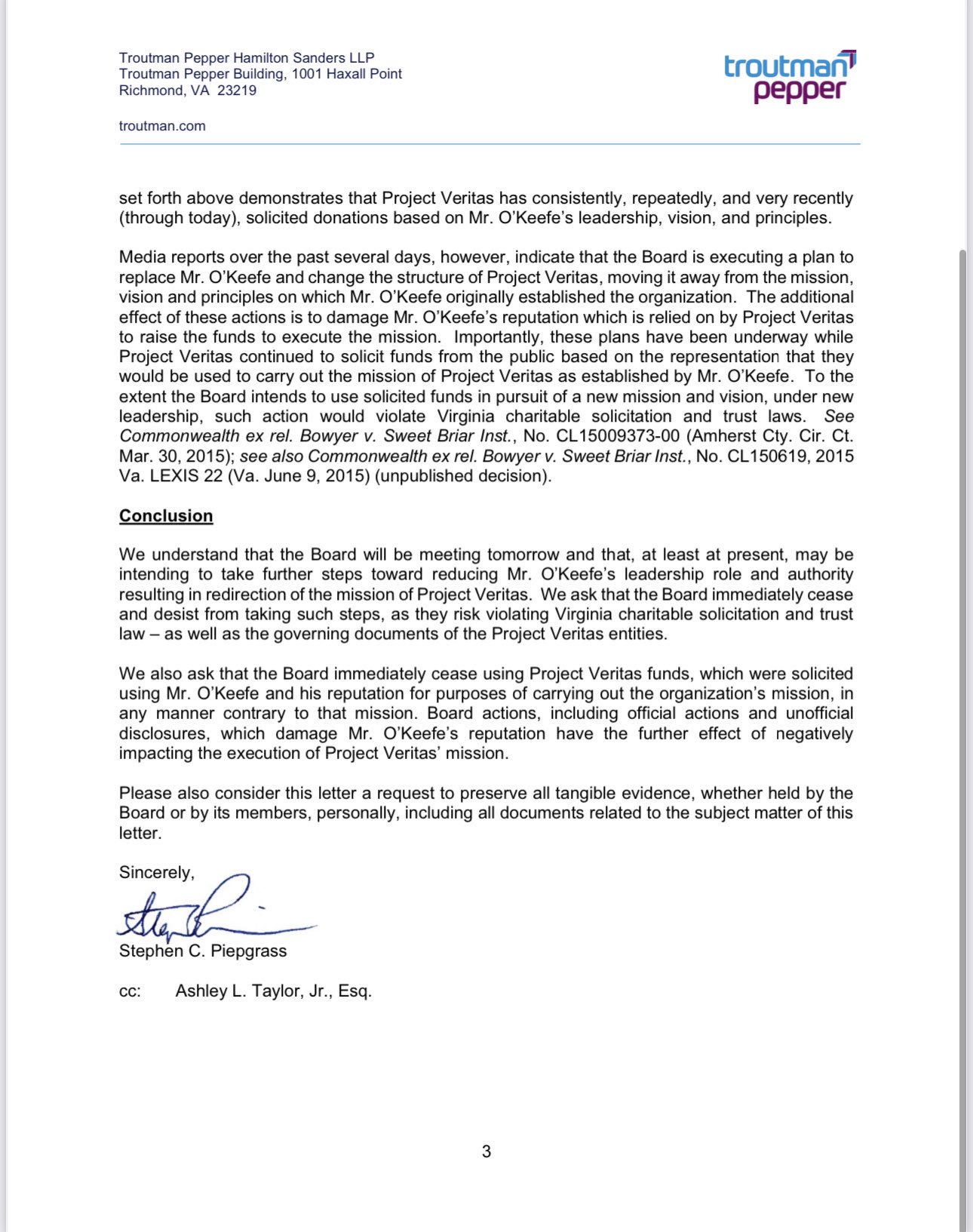 An interesting detail is that this law firm was hit by a cyber attack, the day before they sent out this letter, which signals that something big is going on here. This is not an attack on James O Keefe, it's an attempt to destroy the vital work he has been doing through Project Veritas.
It's telling that this assault on O'Keefe comes right after he exposed to the whole world how Pfizer is creating virus mutations, in order to sell more injections. An undercover journalist from Project Veritas recorded a Pfizer director of research and development, Jordon Trishton Walker, who said how Pfizer mutates the covid virus, to create more strains, and sell more vaccines. He said they are using it as a cash cow. This story was viewed by dozens of millions of people the first day it broke, and may have already reached hundreds of millions of people worldwide.
So who is Project Veritas?
Veritas is Latin for TRUTH. James O'Keefe funded Project Veritas to shine the light of truth on hidden criminal operations executed in our society, by organizations that claim to be trustworthy.
James O'Keefe and his undercover journalists have secretly filmed private conversations with executives from these organizations, and then broadcasted their horrifying confessions to the world. As Christ once said: "What is being whispered in secret, will be shouted from the rooftops."
James O'Keefe exposed for example:
✔︎ how CNN lies to the public to create fear, manipulate elections, and push the climate change hoax (see this clip here).
✔︎ how Twitter has censored doctors that were saving lives, scientists who were protecting humanity, and politicians that stood up against tyranny (see it on PV's website).
✔︎ how Google is hiding tens of thousands of websites, and only shows mind controlling propaganda, when people search for certain topics (see this clip here).
✔︎ how school teachers strategically brainwash children to become transgenders (see it on PV's website)
✔︎ how Pfizer is creating virus mutations in their labs, to further spread the pandemic disease, and sell more injections. (See this clip here)
✔︎ how covid test streets were a freaking theatre show, where employees drove around the scene, when the media came to film, to create the false impression that it was busy, while in reality nobody showed up to be tested. (See it in this report)
✔︎ how deaths from car accidents, strokes, heart attacks, cancer, etc. were alle labeled covid. This was revealed by funeral directors. (See it in this report)
It is clear that James O'Keefe has to be stopped. This has nothing to do with his management, or character, but with his historic impact on the world.
Has Project Veritas been infiltrated?
I received a letter from a lady who was born and raised in the circles of the so called "elites", the high level financial entities, who are behind most suffering, and evil in this world.
Evidence for the existence of this worldwide criminal network is found in our report "the Agenda for world domination", our film "Secrets of the United Nations", the "Grand Jury Evidence, and the docuseries "The Fall of the Cabal".
This eye-witness woke up from the programming and left these circles. Having lived inside the so called "cabal", or "elites" most of her life, this survivor knows their ins and outs. After hearing about the attack on James O'Keefe, she wrote me the following:
"I was just talking with a good friend of mine (survivor) about this phenomena of sudden attacks on leaders of good organizations. Many call it "infighting".

I think it's actually INFILTRATION.

Whenever groups meet, the cult will be sending people.

Infiltration is not something people watch for, but they should.

And because so many associated with the cult are dissociative, the people being "sent" often don't know they're being sent.
They are basically unconscious and "on assignment" from the cult, to do a particular job. And the result is what you've written about here.

The one good thing about this whole plandemic is that the world is waking up to the depth of evil and corruption in the world AND HOW IT OPERATES."
It's encouraging to see that the top donors have stepped up, to oppose the criminalized board, and defend the work of James O'Keefe. The people aren't buying it either, as in less than 48 hours, Project Veritas has lost 22,000 Twitter followers and over 10,000 YouTube subscribers.
Let's stand with James O'Keefe in prayer, and keep supporting him.
David Sorensen